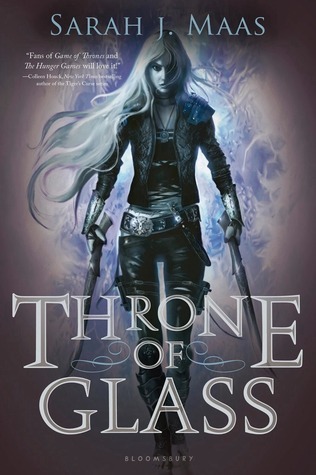 "Why has it taken me so long to read this book!?" is what I kept asking myself as I flew through the 404 page epic fantasy that is Throne of Glass. I have been hearing about this book for quite a long time and for some reason kept pushing it farther and farther back on my reading list. I finally picked it up back in January (before I hit my reading slump :/) and it has been sitting on my book shelf waiting to read until yesterday when I finally plucked off the top shelf, dusted it off, and cracked it open to the first page. Let me tell you, all of the praise for this book I have seen is well deserved. It was one of those books that I could not put down. It literally took all the strength in me to put it down in the wee hours of the morning so I could get some sleep before work.
I am already a big fan of fantasy books, so it wasn't hard for me to get into the book at all. This books grabs your attention right at beginning and doesn't let go until the end. Sometimes I find that fantasy books take a couple chapters to get into because the beginning of the book is spent building to world and characters. Sarah J. Maas did a fantastic job of building the world and characters as well as focusing on the plot at the same time. You don't really get any straight forward world building though, you learn more about the world through the different characters and where they're each from. You get little bits and pieces about different parts of the world.
"In a world without magic, an assassin is summoned to the castle. She comes not to kill the vicious king who rules from his throne of glass but to win her freedom. If she defeats twenty-three killer, thieves, and warriors in a competition, she will be released from prison to serve as the King's Champion. Her name is Celaena Sardothien."
I think it's already pretty obvious that I loved the plot of this book. It's filled with action, romance, sass, and suspense. The plot builds and builds from the very first page to the final fight and leaves you with that lingering question of what will happen next. The little blurb on the front cover definitely does a good job of describing it. It has a little bit of a Hunger Games feel and the world is reminiscent of Game of Thrones.
"The Crown Prince will provoke her . The Captain of the Guard will protect her. And a princess from a faraway land will befriend her. But something evil dwells in the castle--and it's there to kill. When her competitors start dying one by one, Celaena's fight for freedom becomes a fight for survival--and a desperate quest to root out the evil before it destroys her world."
One thing that I especially loved about this book was the character of Celaena. There are tons of books out there with strong female lead characters, but I think that the character of Celaena is one of that stands out amongst the rest. So many times you see these female leads at far ends of the spectrum. They're super tough, but almost too rough around the edges. Or they are the damsels in distress that are honestly, just pathetic. Celaena is great because not only is she a bada** assassin, but you get to see that she is just a normal girl too. She shows young girls that they can be tough and still be girly. She definitely is her own person with her own, very loud, opinions and doesn't change that because of the people around her. I absolutely loved reading about Celaena and she is definitely made the top of my list of favorite female characters! The only thing I was a little disappointed in with her character development was that fact that the whole book really talks her up as this amazing assassin who's super skilled and tough, but you don't really get to see her do anything that crazy. Hopefully in the next book there will be more fight scenes that showcase her crazy skills.
This book does have a love triangle in it. Who doesn't love a love triangle though!? Mass did a great job of writing it which makes it so enjoyable to read. It's paced perfectly, unlike many other YA books that are just starting to get ridiculous with how fast the relationships move. The two male love interests are definitely swoon worthy too so it's really difficult to pick a side. I personally am staying neutral in this because it could really go either way at this point. I'll just have to keep reading to find out!
Overall I gave this book a whopping 5 out of 5 stars because it was awesome! I would definitely recommend this book to everyone, it's such a fun and enjoyable read!
~ Jacey