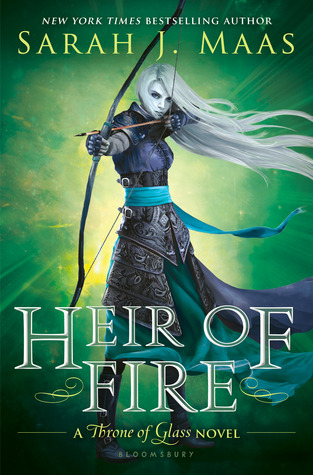 Heir of Fire by Sarah J. Maas
My rating:
I'm just going to start off by saying that I absolutely loved this book and it was most definitely the best book in the series so far! There was so much world building and character development and it was just fantastic!
She was the heir of ash and fire, and she would bow to no one.


Celaena Sardothien has survived deadly contests and shattering heartbreak—but at an unspeakable cost. Now she must travel to a new land to confront her darkest truth...a truth about her heritage that could change her life—and her future—forever.




Meanwhile, brutal and monstrous forces are gathering on the horizon, intent on enslaving her world. To defeat them, Celaena must find the strength to not only fight her inner demons but to battle the evil that is about to be unleashed.
There are so many things to talk about so I apologize if my ramblings don't make sense!
Lets start off with Celaena since she is the main character, and my favorite. She went through so much character development in this book and I loved it! We got so much back story and it really explained why Celaena is the way she is and it makes everything she's done so far even more powerful and emotional. This book starts off after the death of Nehemia and Celaena is just completely mentally broken and so her story arc in this installment is the process of her healing and becoming even stronger than she was before. We already know that Celaena is strong and deadly, but now that she has accepted her fae heritage and harnessed her fire powers she is going to be unstoppable. I'd have to say that the chapters that followed Celaena and Rowan were my favorite to read. Speaking of Rowan, LOVE that guy!
Rowan is a new character and has now become one of my favorites! I honestly didn't like him right away because he was such a dick, but that obviously changed. I really liked how he was tough on Celaena and didn't take any of her crap or attitude because he knew that she could be so much more. I suspect at the beginning that they would become close throughout the book and I really like that they are just really close friends, but I found myself wanting them to actually be together. I really like them together, they just get each other! He took a blood oath so they're going to be joined forever so why not?? also Chaol and Dorian kind of annoyed me in this book so I may be possibly sliding over to team Rowan. I also loved how protective and doting he was towards Celaena when she "burnt out", it was adorable.
Aedion was also a new character and Celaena's childhood best friend. At the moment Aedion is not in a very good position, but I feel like that he's an important enough character that Sarah won't kill him off just yet. My prediction is that Celaena will swoop in and save him at the last minute and all will be well. I'm just looking forward to Celaena and his reunion!
Alright, lets talk about Manon. I did like Manon, she wasn't my favorite to read about, but I did really like her. She is so fierce and I feel like her and Celaena are two sides of the same coin. Her story arc also kind of reminded me of the Grinch, her heart grew! and it was all because of a wyvern. So I don't know about you guys, but I picture Abraxos as Toothless from How to Train Your Dragon. Adorable! I love Toothless! I loved when she was trying to feed him the meat and he was just laying there smelling the flowers. That scene made me chuckle. I'm looking forward to see where Manon's story arc goes and to see if her heart really changes. I really hope there is a Manon/ Celaena showdown in the next book!
Just a few other things that I wanted to touch on. First thing, Dorian, that guy can not catch a break! I felt so bad for him after Sorcha was killed! Second, they better destroy one of those evil towers in the next book! And third, that final fight scene! I loved it! Obviously Sarah wouldn't kill off Celaena, but there was a second there that I thought it was possible. Also, when her and Rowan used their bond finally, it was beautiful!
I gave this book 5 stars and it deserves every one of them. It was a phenomenal story!
~Jacey