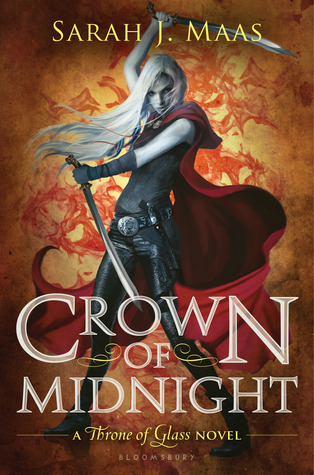 If you loved the first book, Throne of Glass, you will be crazy about the sequel, Crown of Midnight. Sarah J. Maas really stepped up her game with this sequel and took this series to a whole new level.
"From the throne of glass rules a king with a fist of iron and a soul as black as pitch. Assassin Celaena Sardothien won a brutal contest to become his Champion. Yet Celaena is far from loyal to the crown. She hides her secret vigilantly; she knows that the man she serves is bent on evil."
I absolutely LOVED this book! Like the first installment, I flew through it and could not put it down. In some reviews of Throne of Glass I have seen, people have said that the direction of the plot wasn't very clear. In this second book you can definitely see where the story is headed and let me tell ya, I can't wait to see where the plot ends!
This story tugs on your heart strings, no it doesn't just tug, it yanks and pulls until your eyes involuntarily start leaking. It starts off at a really good place for most of the characters and then things just start going to crap and everything goes downhill from there.
"Keeping up the deadly charade becomes increasingly difficult when Celaena realizes she is not the only one seeking justice. As she tries to untangle the mysteries buried deep within the glass castle, her closest relationships suffer. It seems no one is above questioning her allegiances—not the Crown Prince Dorian; not Chaol, the Captain of the Guard; not even her best friend, Nehemia, a foreign princess with a rebel heart."
Like I've said before, I love the character of Celeana and in this sequel you get to see a whole new side of her which I thought was really awesome! In the first book you really don't get to see how she was before Endovier, you just see her as this frail, tortured girl at the beginning and then throughout the rest of the book she is trying to hide who she really is. You know who she is, but you don't get to see it. In Crown of Midnight you get to see her as the crazy skilled assassin that she is as well as the girl underneath the cloak. I really enjoyed reading the parts where she was vulnerable and open. I also loved the scenes where she went crazy and started killing people though! Is that weird?? I don't really care, I wish I could fight like Celeana!
"Then one terrible night, the secrets they have all been keeping lead to an unspeakable tragedy. As Celaena's world shatters, she will be forced to give up the very thing most precious to her and decide once and for all where her true loyalties lie... and whom she is ultimately willing to fight for."
Everything really is turned up a notch in this sequel. The action, mystery, romance, and magic, there is just so much more of everything! It's a nonstop ride until the very last page. Speaking of the ending, WOW, just wow. It was one of those endings where you couldn't get to the last page fast enough and it makes your heart start racing. I had already started to make the connection a couple pages before, but reading those words was just perfection. I had like a mini flip out after I finished it and then I just had to sit there for a second and take it all in.
I could probably keep typing for another hour straight, but I don't want give away any spoilers so just go read the book! You will not be disappointed and you will not regret reading it!
~Jacey
P.S. I'm definitely team Chaol! They are perfect for each other!